Nickel Iron
Posted By Eric Grange On February 5, 2012 @ 15:09 In | Comments Disabled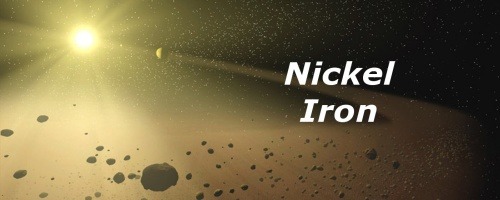 [1]
Use your missiles to blast away the incoming waves of asteroids.
This is a fast-paced arcade game with classic, addictive gameplay.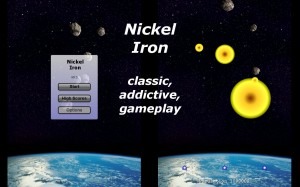 [2]
How to Play:
touch or click where you want you missile fired, be sure to anticipate asteroids!
at most 3 missiles can be in flight, one per active base
destroying asteroids increases your "+" bonus, which is added to each kill score
if a base is destroyed, you can repair it by clicking/touching it (at a cost in bonus)
each asteroids that hits the ground reduces your population and bonus
if you lose all your bases or your population reaches zero, you've lost
Changes: ("lite" version)
v0.6.7: Added screen shake effect when an asteroir hits the ground
v0.6.1-0.6.7: Improved framerate to 60 FPS, optimized size, added menu animations
v0.6.0: FireFox OS compatible, minor tweaks
v0.5.8: fixed bug with destroyed base still being able to fire
v0.5.7: tweaked menu animation, added About box
v0.5.5: name changed to "Nickel Iron", previous named infringed Atari trademark
v0.5.4: more tweaks to leveling, prevent missile fire during "game over"
v0.5 beta:

added repair of a missile base at the cost of +10 bonus
improved performance
Game application available in Google Play [3],  Chrome Web Store [1] and FireFox Marketplace [4].
Also available for iPhone & iPad [5] as Web app, for best experience, add it to your home screen.
Also runs as an HTML5 web page [6] in all modern browsers and all platforms. Fir best experience, add it to your home screen from Safari or Chrome.
Built with Smart Mobile Studio [7], it is written in Object Pascal (DWScript [8] flavor) compiled to JavaScript.
---
Article printed from DelphiTools: http://www.delphitools.info
URL to article: http://www.delphitools.info/android/nickel-iron/
URLs in this post:
[1] Image: https://chrome.google.com/webstore/detail/fpagfgmeingaacdkophbpicjdhoncgkj
[2] Image: http://delphitools.info/wp-content/uploads/2012/02/sshot_1280_800.jpg
[3] Google Play: https://play.google.com/store/apps/details?id=info.delphitools.nickeliron
[4] FireFox Marketplace: https://marketplace.firefox.com/app/nickel-iron/
[5] iPhone & iPad: http://delphitools.info/NickelIron/index.html
[6] HTML5 web page: http://direct.delphitools.info/NickelIron/index.html
[7] Smart Mobile Studio: http://smartmobilestudio.com/
[8] DWScript: http://delphitools.info/dwscript/
Click here to print.